Guide: How to succeed in building a hybrid workplace: balance flexibility and focus
Office work has shifted from 9-5 to anywhere, anytime. How will you maintain that flexibility while giving employees the space they need to focus and be productive?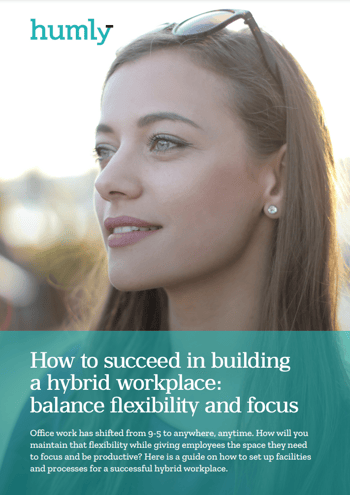 What was once fixed is now fluid and there is no turning back. Digitalization and the pandemic have made work life much more flexible.
One of the toughest current challenges for CEOs, HR managers and facility managers alike, is to create a new kind of workplace that corresponds to and supports this flexibility in a way that fits everyone. It's not an easy task.
4 drivers of productivity
To properly design hybrid work we need to understand the 4 critical drivers of productivity:
Energy
Focus
Coordination
Cooperation
How to
set up a successful hybrid workplace: a humly guide
We have created a guide on how to set up your facilities and processes for a successful hybrid workplace with these drivers in mind.
Submit the form to download and read the guide. Happy reading!