Cecil Coworking: "Humly and Nexudus is a user-friendly ecosystem that fullfills our wishes"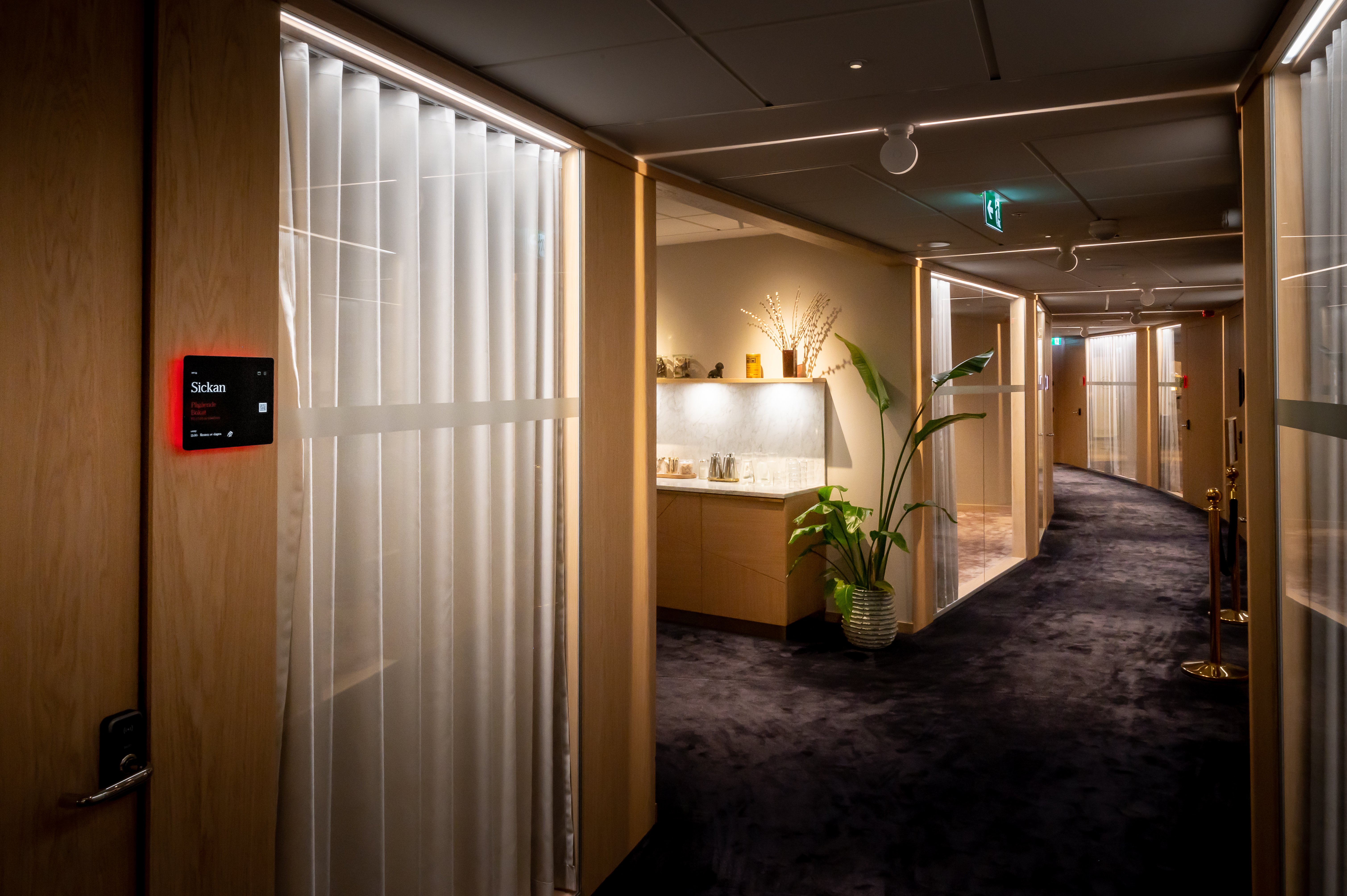 Cecil Coworking is located in central Stockholm and is the coworking project initiated by Hufvudstaden. At their location they offer companies to rent office spaces. They have been acknowledged in "Sweden's most beautiful office" and their vision is to create a workplace that motivates and inspires members. In this vision Humly plays an important part with their Workplace Solutions suite - especially the Humly Room Display.
The room booking display together with the backend of Nexudus booking system has created a stylish interior on the walls and a flexible solution for Cecil Coworking.
Patrik Jdeidani, Service host at Cecil Coworking, describes the benefits of working with Humly and Nexudus. An integration Humly developed exclusively for Cecil Coworking in 2021.


Questions & Answers:
What is a coworking place and how does Cecil work with it?
- We offer office space, lounge and desk membership - all based on the company's needs and size. In addition to office spaces, members are also offered meals, tailored events and conference rooms with a high level of service at one of Stockholm's most attractive addresses.
You have been noticed in the competition "Sweden's most beautiful office" - how do you work with the premises and design to promote a better work environment?
- Our vision is to create a workplace that motivates and inspires our members. In collaboration with architects, we have focused on carefully selected sustainable furnishings of high quality and design.
Why is the work environment important?
- The work environment must be inclusive and inspiring to promote creativity and productivity. We strive to maintain a work environment that suits different individuals and companies.
Patrik Jdeidani, Service host at Cecil Coworking.
What are your biggest challenges regarding good technical solutions for coworking?
- The biggest challenge is to enable a high level of service at the facility because the technology must be easy to handle and compatible with various technical products.
Why did you choose to use Humly as one of your solutions?
- Humly is a user-friendly system that fulfills our wishes. The integration between Humly and Nexudus was an important factor for our business. In addition, the Humly screens give a stylish impression and fit in well with our other decor.
What are the advantages of Humly?
- The system is easy to use and compatible with Nexudus. In collaboration with Humly, we have experienced a high level of service and committed staff.
How does Humly help your business regarding coworking?
- Humly enables a fast and flexible way for our members to, among other things, book conference rooms via Nexudus. In addition, the system is easy to handle for the employees at Cecil Coworking.
Nexudus is your booking solution software - why did you choose Nexudus?
- Nexudus was the obvious choice for us because they are one of the strongest players on the coworking market today with extensive experience in the industry. We wanted to find an overall solution and Nexudus met the expectations around our needs and wishes.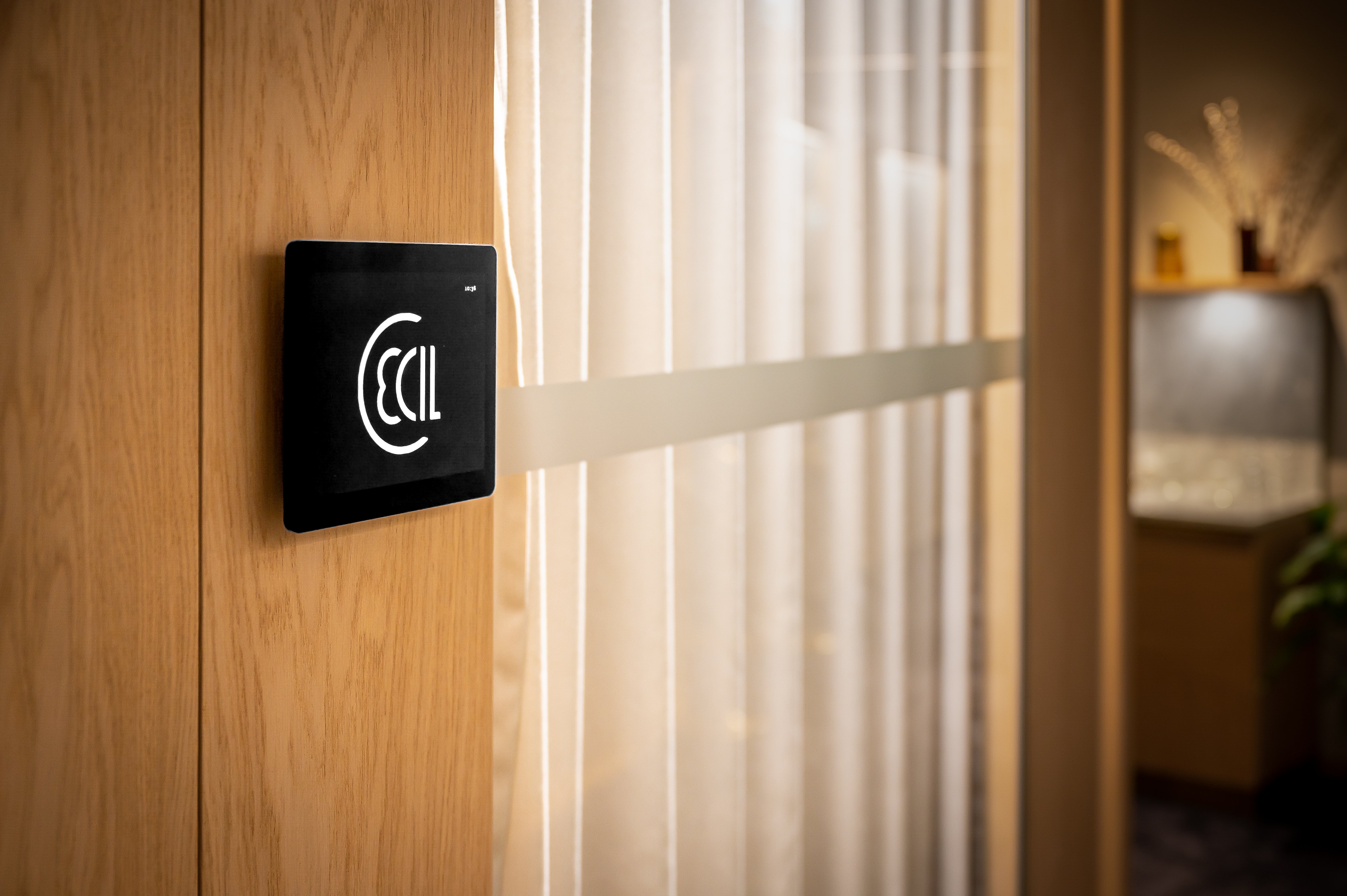 Do you use Nexudus for anything else, outside of booking?
- We use Nexudus for basically everything in our daily work and not just for bookings. Such as managing keys/tags, invoicing, adjusting the website and the app, events, checking in and out of visitors, deliveries and more.
Cecil were Humly's first Nexudus customer and Humly originally developed that integration for you. How did you experience the process of working with Humly's development team?
- The collaboration with Humly has worked well from the start. Humly has been responsive to our requests and flexible in the integration work between the two systems.
What works well with Nexudus and Humly's solutions?
- Since the integration between the two systems, we have not experienced any major technical problems.
What features of Nexudus and Humly stood out to you?
- As for Humly, it was primarily the size of the screens, design and software customization that made Humly the obvious choice for us. The size and the network socket with power supply (PoE) at the rear edge meant that they fit on the relatively narrow wall sections between the glass wall and the door.

- For Nexudus, it was primarily the whole part they could offe. It is a platform that can handle all parts of the operation and administration of a Coworking facility.
Cecil Coworking in central Stockholm.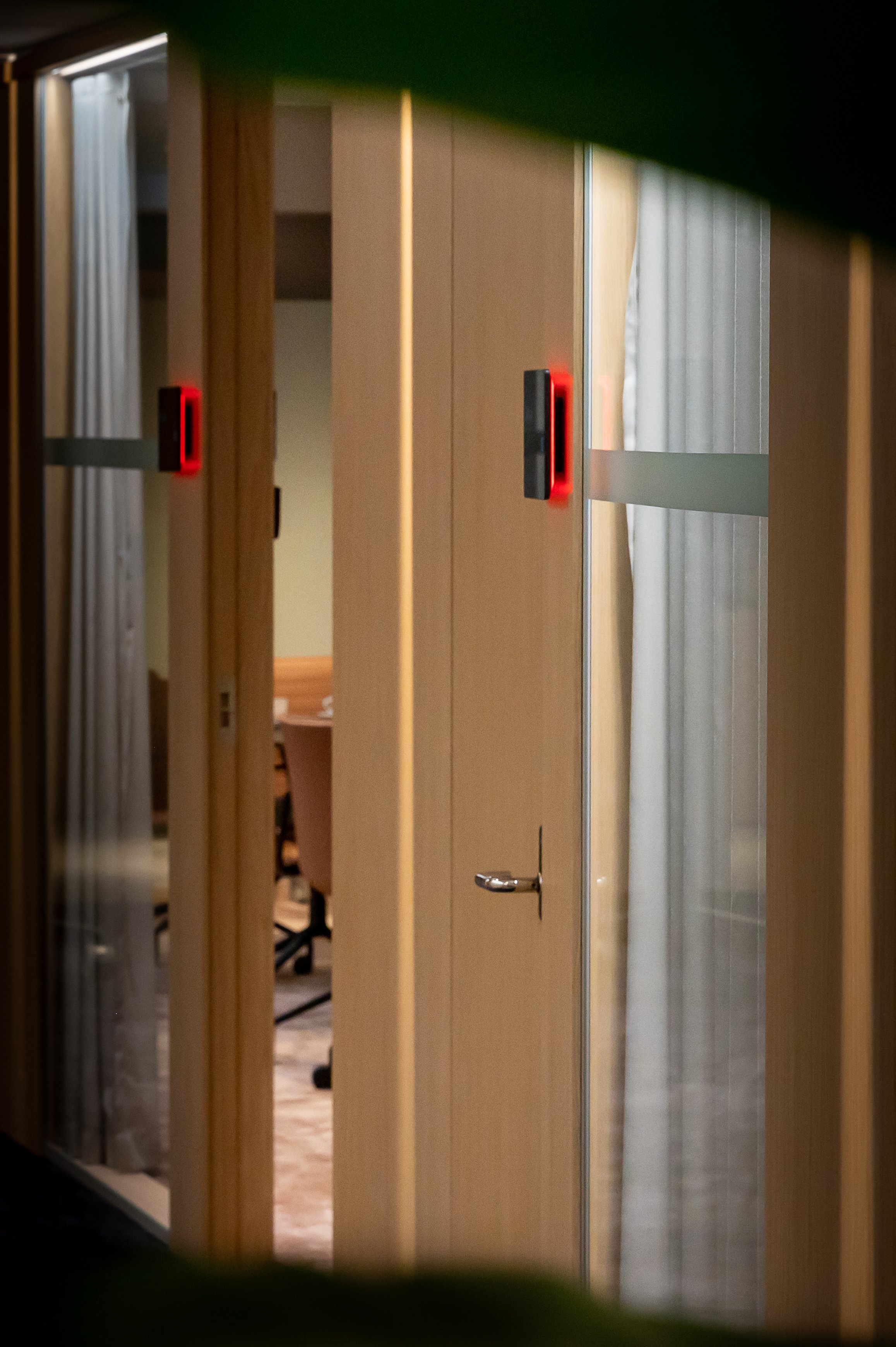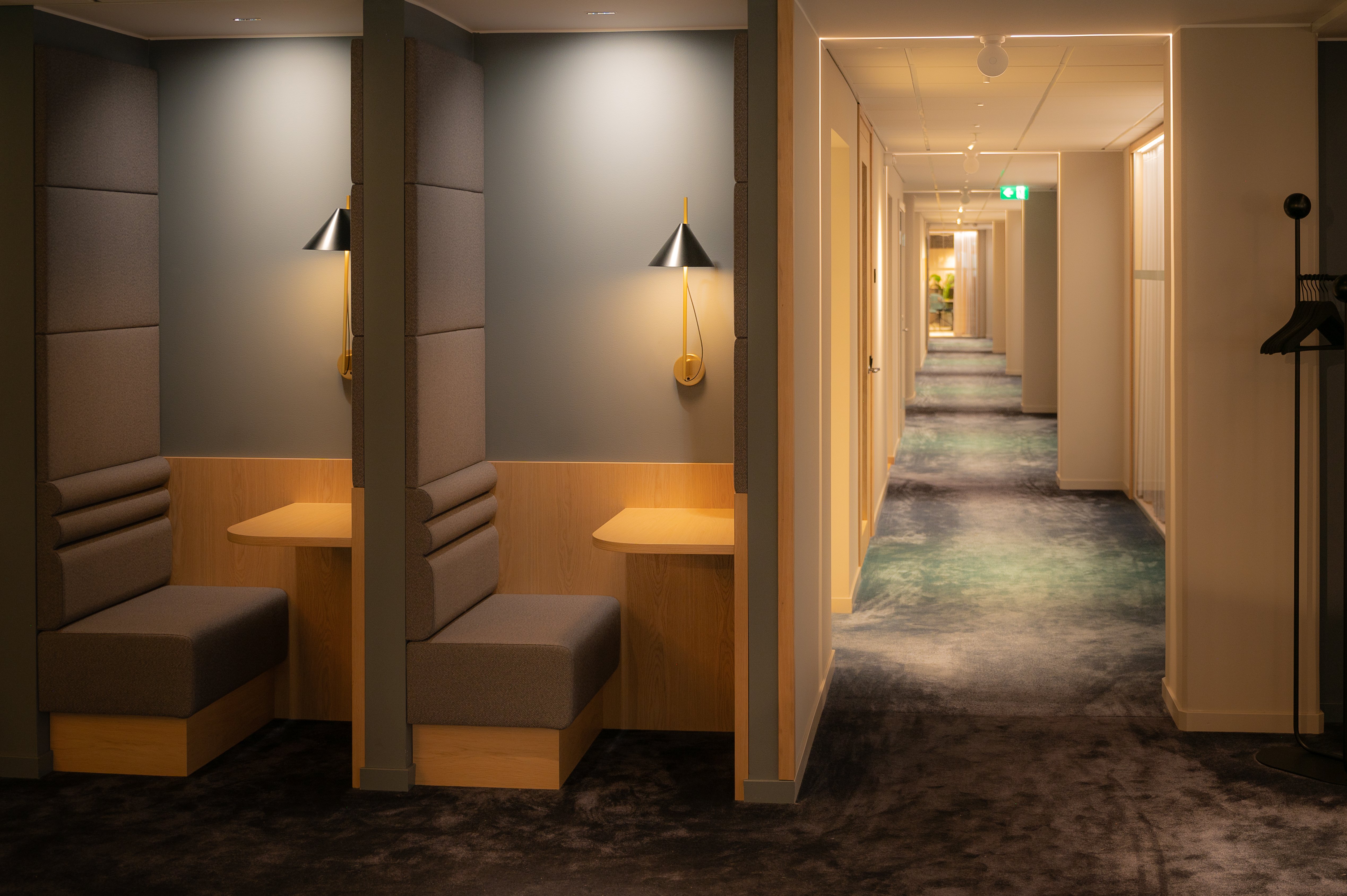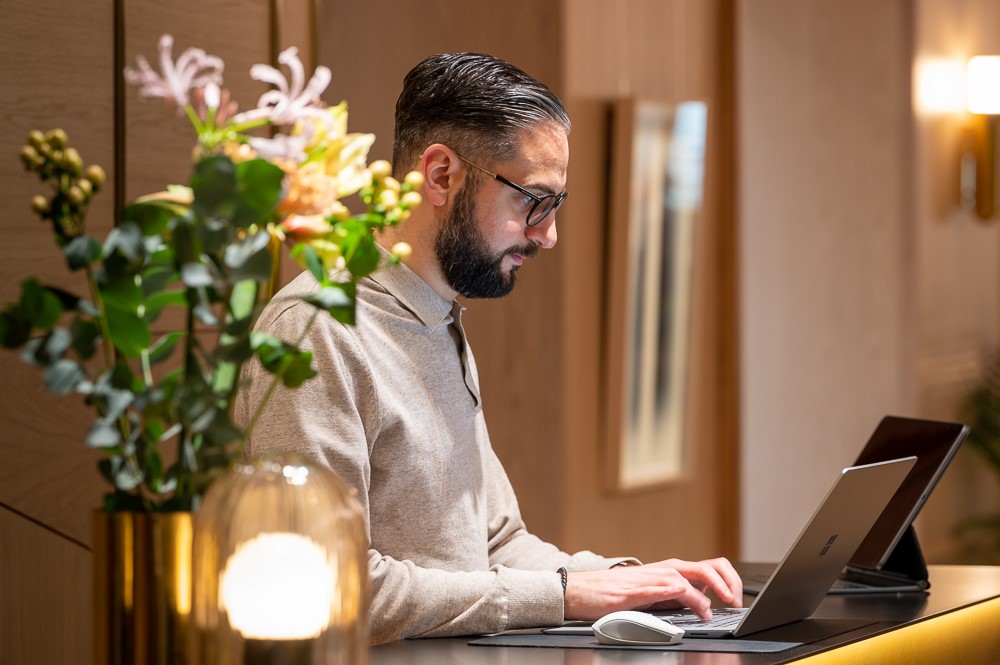 Patrik Jdeidani, Service host at Cecil Coworking.