Reseller AV1 on a leap of faith and the success that followed
We got acquainted with AV1 and Jörgen Börling in connection with a RFQ for one of Sweden's most iconic companies.. For this blog post we asked Jörgen about his experience working together with us at Humly.
The collaboration with partners who truly understand our core values and vision is a vital key to our success with customers. Together, we offer solutions to organizations so they can have less friction and more focus in their workplaces.

Jörgen at AV1 made a leap of faith and reaped the benefits of daring to put his chin out. We had a chat with him now that he has deployed just shy of a thousand Humly Room Displays in different organizations. We wanted to hear how his experience has been working with Humly and share it with others like him.
How come you started off working with Humly?
"We started to evaluate different vendors after having received a RFQ from one of our largest customers last spring. Already during the first contact with Humly they stood out as agile and innovative. Early in the relationship with Humly we experienced a very strong mutual trust and understanding. I strongly feel that Humly and AV1 share some of the same values and the vision regarding the future of work."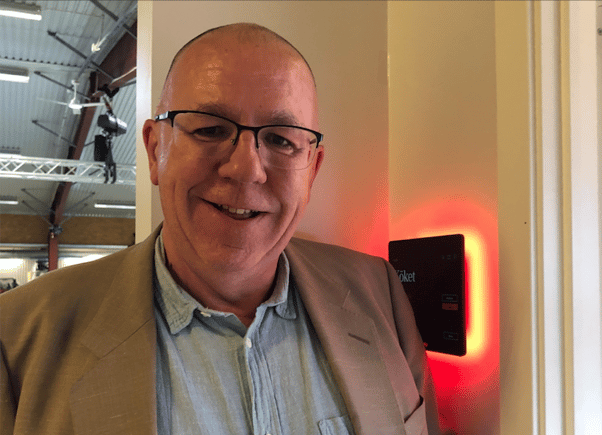 "Humly was unknown to the customer until late in the decision making process and when we asked them if we could add another solution to the mix, they approved of us adding Humly as a second alternative. We decided to put our neck on the line and present Humly as our preferred choice."
What is your experience selling Humly?
"Very positive. It has been a very smooth journey. The product has performed very well, the few issues that have occurred have been solved immediately by Humly. There have not been any stock related challenges which in this day and age is rather unique. I would describe it as a very easy process without any friction.
Humly has developed a very close relationship with the end customer and together we are keeping them happy. We trust Humly and we will continue to have a close partnership moving forward - to us at AV1 that feels really good."
What is your take on the market right now? What do you think is the most relevant value-add to companies wishing to improve their workplace experience 2022?
"The market is becoming increasingly mature and steering away from multi vendor setup towards more coherent solutions and integrations of the AV/IT setup for organizations globally.
Customers are increasingly requesting streamlined solutions. The challenge for vendors becomes how to get invited to the table and enter discussions on the future of work and their workplace guidelines. I believe statistics and making sure rooms have equipment and resources that are expected will be a hidden asset that is helping customers to gain insights on how and what office space is truly used."
Jörgen Börling can be reached at jorgen@av1.se for sales in the west of Sweden! If YOU want to be like Jörgen and join our network, just let us know at http://www.humly.com/how-to-buy/
Or send an email to us at hello@humly.com